Ground squirrels in Velké Pavlovice
Come to Velké Pavlovice for the weekend and learn all about ground squirrels!
_We invite you to Velké Pavlovice to learn about ground squirrels through a lecture, information stand or a visit to the vineyards to look for them in real life! Look out for us in our yellow T-shirts and come and say hi. _
**When: **1.–2. 7. 2016
**Where: **Velké Pavlovice
There will be two events taking place: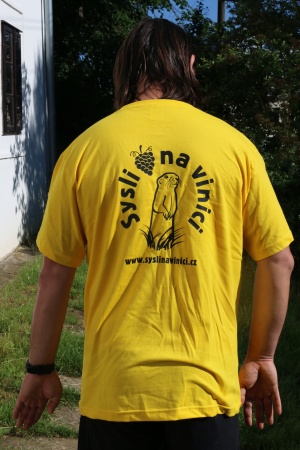 Programme of events:
Friday 1 June 2016
A lecture by Jan Matějů's on "Common ground squirrel - a critically endangered species of our fauna, why and how to protect it" will take place at 18:00 at Trkmanka Ecocentrum.
Saturday 2 June 2016
Souslik information stand will be in place at Ekocentrum Trkmanka from 10:00 to 17:00
Excursion to the vineyards will meet in front of the Municipal Office at 11:00 and 6:00
**An information stand **at the Municipal Office will be open from 17:00 selling tickets for the Open cellars evening
**Workers in yellow ground squirrel T-shirts **will also be around the streets of Velké Pavlovice and around at the open cellars for you to come and talk to about ground squirrels
This event is being implemented under the project "Implementation of measures for the European souslik in South Moravia".